Student Giving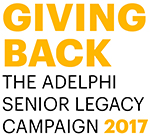 The Senior Legacy campaign is an opportunity for our class to join together in a big way—to continue a University tradition of giving and leave our legacy at Adelphi through a class gift. The Senior Legacy Campaign is about participation. If each and every senior contributes just $5, as a class we will make a huge impact at Adelphi University, and in the lives of other students just like us.
» Make your Senior Legacy gift now!
The 2017 senior class gift has yet to be determined.

There are so many reasons to give to the Senior Legacy Campaign. Here are a few:
Be a part of something bigger than yourself
You may think a gift of $5 couldn't possibly make a difference, but what if everyone in your group of friends teamed up to show their support of Adelphi? What if every student in the Class of 2017 made a gift? When combined with the participation of our entire class, your gift will make a tremendous difference.

Leave your mark on campus
Our class gift is going to make an Adelphi education a reality for students for years to come. What better way to give than to leave a legacy that will last on campus forever? When you contribute to the Senior Legacy Campaign, your name will be listed on the Class of 2017 plaque of contributors, announced at Commencement, and posted on the Adelphi website.
 
Increase the value of your degree


Many publications, such as 

U.S. News & World Report, look at alumni giving percentages to determine national rankings for colleges and universities. The stronger Adelphi's student and alumni support is, the higher our national ranking becomes. This adds value to your degree, and will set you apart in the eyes of potential employers in the years to come.

Pay it forward


Whether we realize it or not, donations alumni have made through the years have helped support the opportunities we had at the University. Now it's our turn to continue the Adelphi tradition and provide resources for future students.
To make your gift of $5, you can:
» Make your Senior Legacy gift now!
*A one-time donation of $5 will be added to your mobile phone bill or deducted from your prepaid balance. Message and Data Rates May Apply. All charges are billed by and payable to your mobile service provider. Service is available on Verizon Wireless, AT&T, Sprint, and T-Mobile. All purchases must be authorized by account holder. By participating you certify that you are 18 years or older and/or have parental permission. Donations are collected for Adelphi University and subject to the terms found at igfn.org/t. Privacy policy: igfn.org/p. Text STOP to 85944 to stop; Text HELP to 85944 for help.