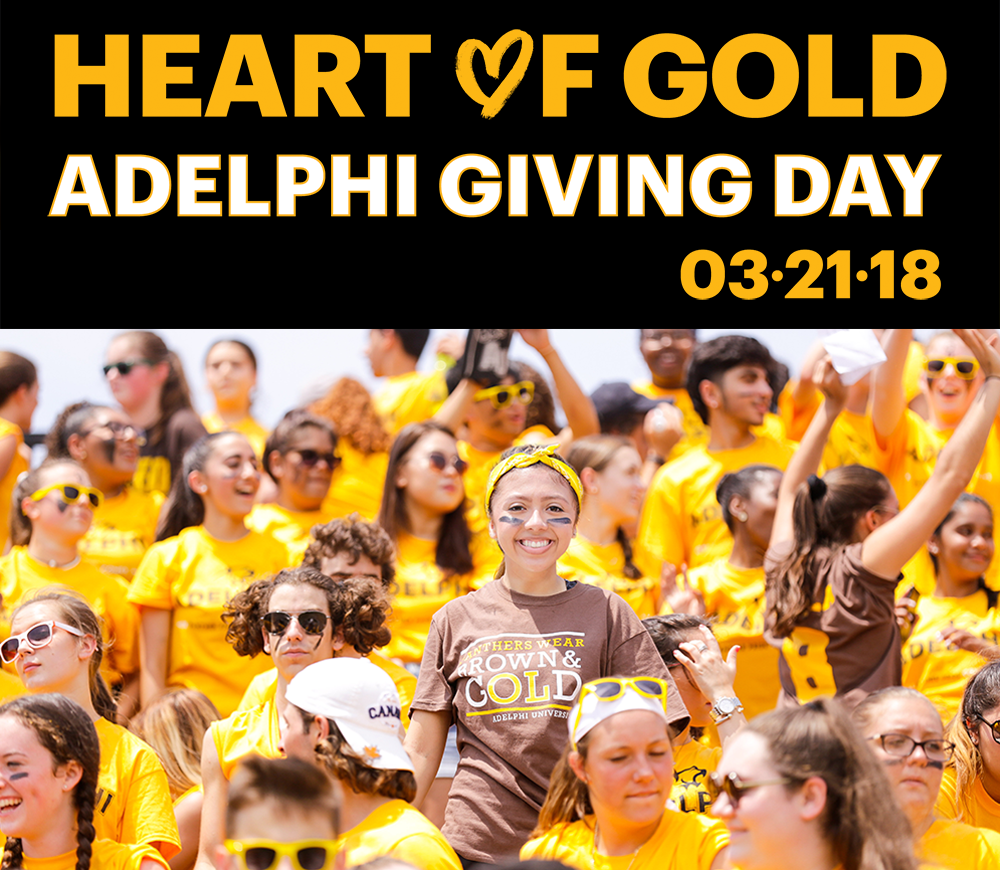 Show Your Heart of Gold.
On one day, March 21, 2018, join together with Adelphi alumni, parents, students and friends around the world and show your Panther pride. Everyone will rally around a cause that they love—whether it's to help send anthropology students to a dig in Greece, help create a social activity fund for students with an autism spectrum disorder at Bridges to Adelphi, help the Breast Cancer Hotline and Support Program be there for even more breast cancer patients and their families, and many more.
Together we'll make a crucial difference in a short period of time—and celebrate the generosity of our Adelphi community. Let your Heart of Gold shine, because on Giving Day, every gift makes an even bigger impact!
How to participate:
Give to your favorite cause(s) anytime on Wednesday, March 21, to have your donation counted toward the Giving Day total.
Give online anytime, or visit Advancement staff in the Ruth S. Harley University Center lobby on Wednesday, March 21, from 10:00 a.m.–4:00 p.m., if you'd like extra assistance in making your gift. Enjoy delicious treats, fun thank-you gifts and music.
Celebrate your gift by taking a picture in our photo booth, letting the community know why you've chosen to support Adelphi. All pictures will be posted to our donor wall to inspire others to give!
---
For more information, please contact:
Office of University Advancement
Nexus Building, Room 200
p – 516.877.3250
f – 516.877.6890
e – annualgiving@adelphi.edu